Day 3 has come and gone and technically Day4 is underway. Yesterday brought us barreling into Animal Adventure in Harpursville, NY. You may have followed April the giraffe over the winter and spring in anticipation of watching a giraffe give birth live on TV. Having 4 children, I can't think of a more awful thing to do to someone. I didn't allow any videos at my births. I hope April doesn't have to relive that. I feel for you April.
In any case, little Taj is adorable. As are all of the babies at the park. My all time favorite animal to watch however is the lowly tortoise. So very jealous that my kids were able to give tortoise tubbies and get up close and personal with these huge guys. My Hermans tortoise never grew bigger than my hand! I find watching them eat kind hysterical and soothing at the same time. I need a giant tortoise pen in my yard.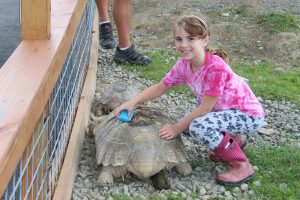 There were many questions of how the girls got to do this since it's not something you can sign up for at the park. Well this little adventure was the result of mommy and daddy attending an event called "Wine with Wolves" where various wineries and distributors gather at the park to sample wines and foods. Drinking with animals. What could go wrong? It ended with an auction of various things, one of which being "Zookeeper for the Day." Having twins required obtaining this x 2 so I thoroughly enjoyed bidding against a friend to obtain the golden tickets I so desired. What did this lovely prize cost? I won't disclose the obscene amount but suffice to say that the wine must have been very very good. I didn't even get chocolate out of this deal but surely I got a mom of the year award? (Daddy gets a best supporting dad award for being generally encouraging in the spending of money and tolerating his wife being slightly knackered.)
Any good Staycation day is not complete without at least some whining and crying and gnashing of teeth and this day did not disappoint! "Ungrateful" may have been the word of the day and thus I did not take them to the library with me later but rather reveled in a couple of hours of driving around child-free returning library books and DVD's, returning some hideous powder makeup to Ulta and then visiting the Target temple to buy new hair things for the ingrates who later cried because there were no purple ones.  Children are a gift from the Lord. Children are a gift from the Lord. Children are a gift from the Lord…
Cost for today? 4 stuffed animals, some lizard slime (don't ask), bottle of sunscreen, bag of Swedish Fish and some hair ties. In other words, PRICELESS.