I'm leaving for a 4 day "excursion" to Las Vegas for a work related conference. Unfortunately Las Vegas is just about the last place on earth I'd like a free trip to and all I can think is that if my plane were to crash I would end up dying going to a place I detest. Lovely. But anyway…
My goal was to pack everything in a backpack and I was definitely successful! Not needing a curling iron or flat iron since I cut my hair is a definite bonus. I also don't need a brush or lots of hair goo. I use a dab of aloe Vera gel now and I'm good.
As I'm sitting here in the airport I realize there were only 2 things I forgot: a bathing suit and a magazine. I ALWAYS bring a magazine but I simply forgot this morning. Thankfully airports sell those types of things and I always enjoy perusing the book shop in layovers so no biggie. The bathing suit is more problematic since I was intending to find a pool or hot tub to relax by. I will have to pick one up when I get there although I am thinking that I am more likely to find a topless see through bikini than a modest one piece or tankini in Las Vegas. Ugh. Hopefully I can at least find something NOT fluorescent!
Here are the clothes I brought: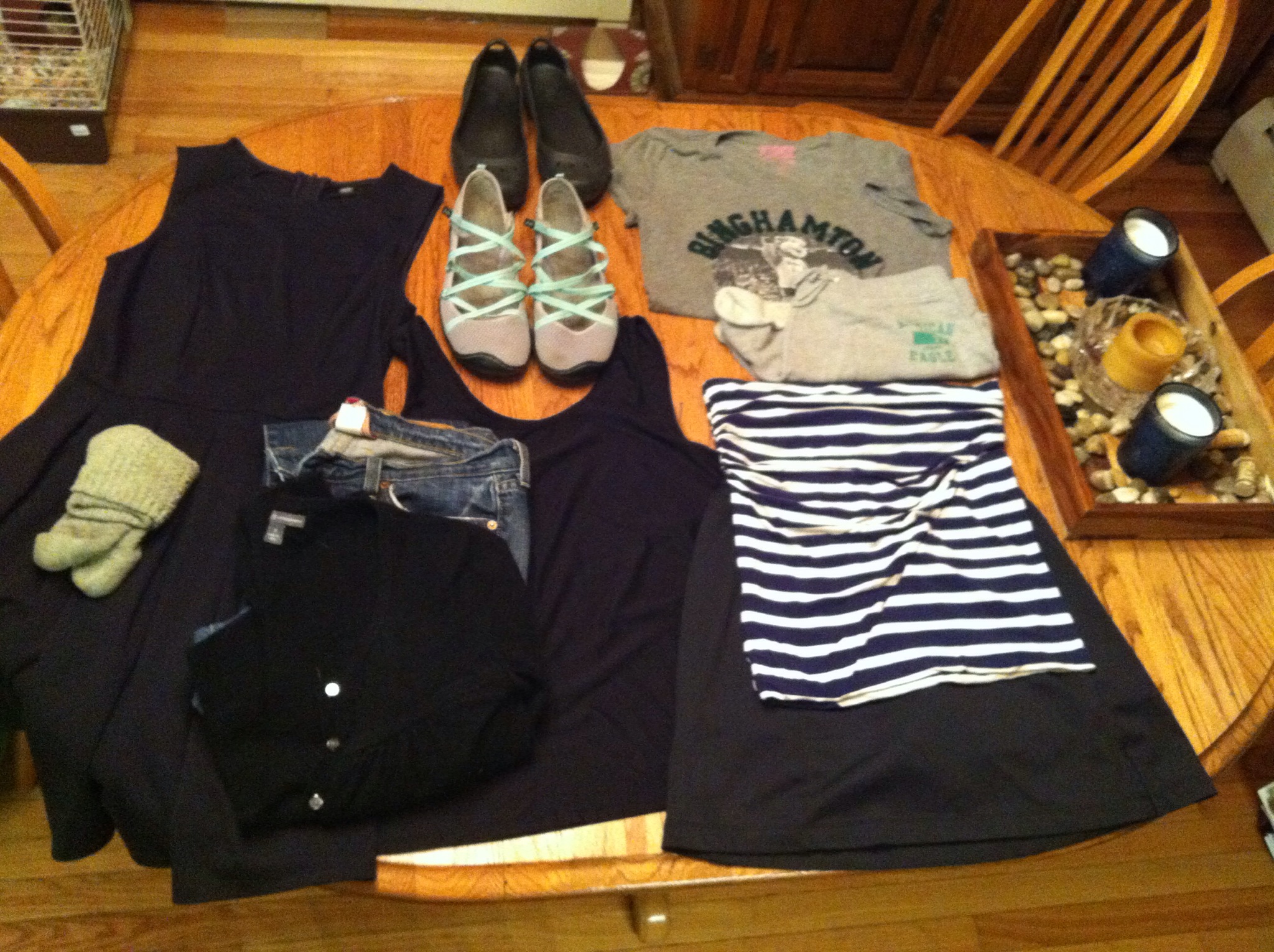 I wore the following on day 1:
Jeans (Lucky brand I bought at consignment shop)
Black travel tank
Black cardigan (consignment store find)
Grey ballet flats (J-41 at TJ Maxx)
Pashmina (not pictured-I grabbed it at the last minute for the plane)
Non-underwire bra (I pulled the wire out!)
I carried the rest in my pack:
Black golf skirt (they don't wrinkle!)
Black dress
Black ballet flats (crocs)
Blue and white tube top (CABI)
Shorts and tee for sleeping in
Fluffy socks for sleep
4 pairs of underwear
Strapless bra
A bathing suit would have fit easily 🙁
I also brought a bag of toiletries, electric toothbrush, Kindle, snacks and some medication. I still have room for a couple of lightweight acquisitions if needed. Since I'm going to a conference I'm sure there will at least be some paperwork.
In my purse I brought a small wallet, tissues, phone, small Moleskine notebook, pens, hand gel, bar of chocolate(!), granola bar, sunglasses and CPR mask (you never know). I think there are some band aids in there somewhere too. I added a sheepskin seatbelt cover to the strap of my purse for comfort. This is my purse: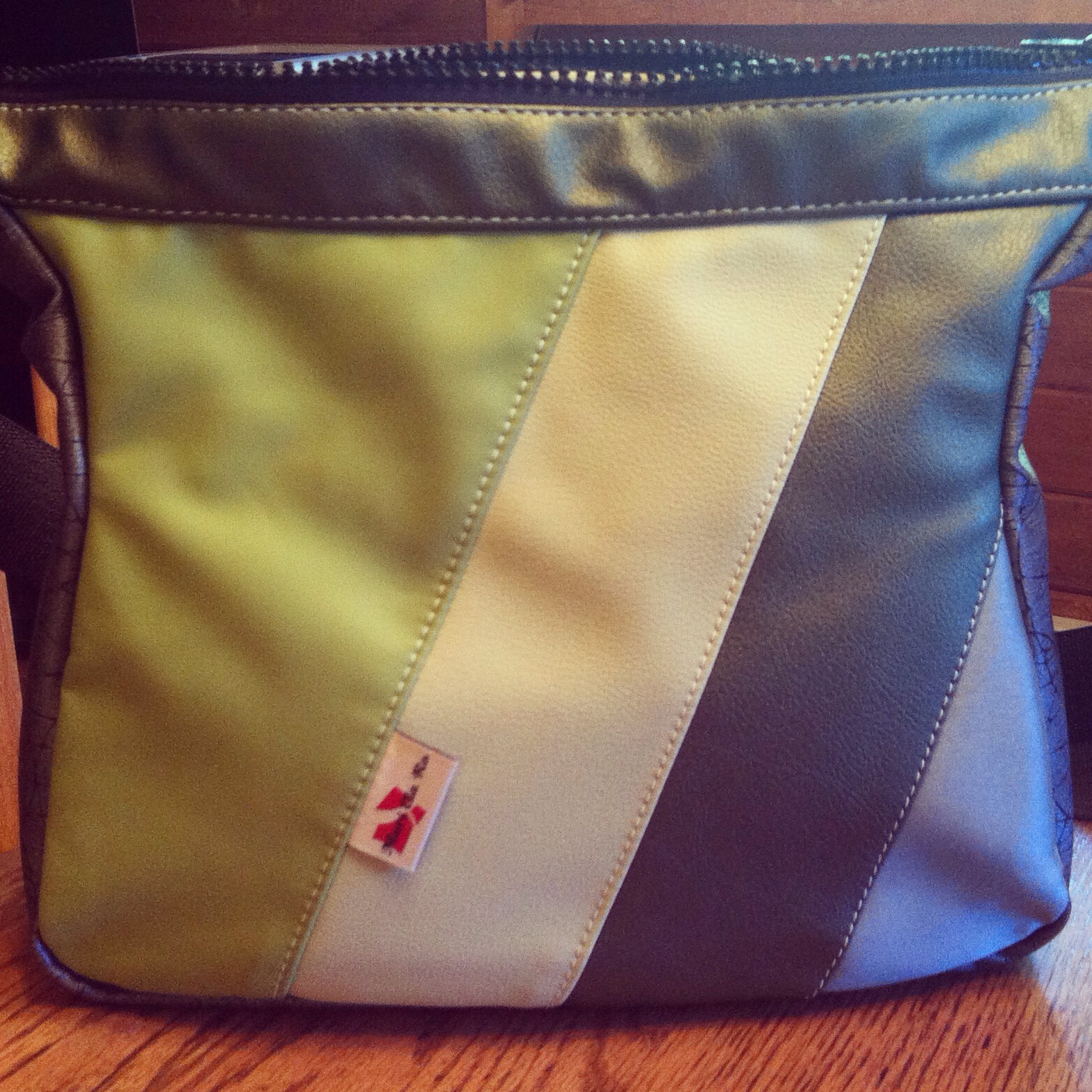 There is a zip pocket in the back perfect for my phone. The strap is made of recycled seat belts and the bag from recycled furniture fabric. I will have a separate post about the purse later.
I realize not everyone would be comfortable in jeans and last year I was more dressy but I found many who wore jeans. So I went with a comfy pair of jeans that I can dress up a bit with the tops I brought. I could have brought a pair of black pants but decided against it. The dress is for dinner each night with the black flats. I can wear the pashmina with that because I dislike air conditioning and being cold in general. Since I'm walking everywhere I didn't bother with heels. I never wear them anyway.
You might be wondering about accessories. I wore my CZ studs that I normally wear every day. They go with everything. I also wore my watch and a necklace that I always wear too. All of the above is gold or silver so no need to "match" anything. Sticking to the basics makes life much simpler. 🙂
Well there you have it. 4 days in a backpack. I did it. And the great thing is that since I am not traveling to the middle of a jungle somewhere I am pretty sure I will be able to go buy anything I find that I absolutely can't do without for 4 days.
1 hour til take off! Here goes nothing!!
Liz
Update 9/13/14: last day here and these are my thoughts.
1. Bathing suit was unnecessary. I don't care to swim much and really just wanted to sit outside near the pool. Tube top+golf skirt works as a skirted bathing suit. There is plenty of skin out here and I don't need to add to it!
2. Picked up magazines to read but now realizing they will add weight to my pack. Next time I'm just downloading them onto the Kindle.
3. Did not take my bum shoulder into account when deciding to take a back pack. Highly recommend small rolling bag or convertible back pack with bad shoulders. Ouch! That was dumb… Thankfully I'm at a Rheumatology conference and was able to buy a cheap TENS unit! Don't worry-it's super light and fits in my pocket! BEST souvenir, lol!